Rise & Shine Vanilla Smoothie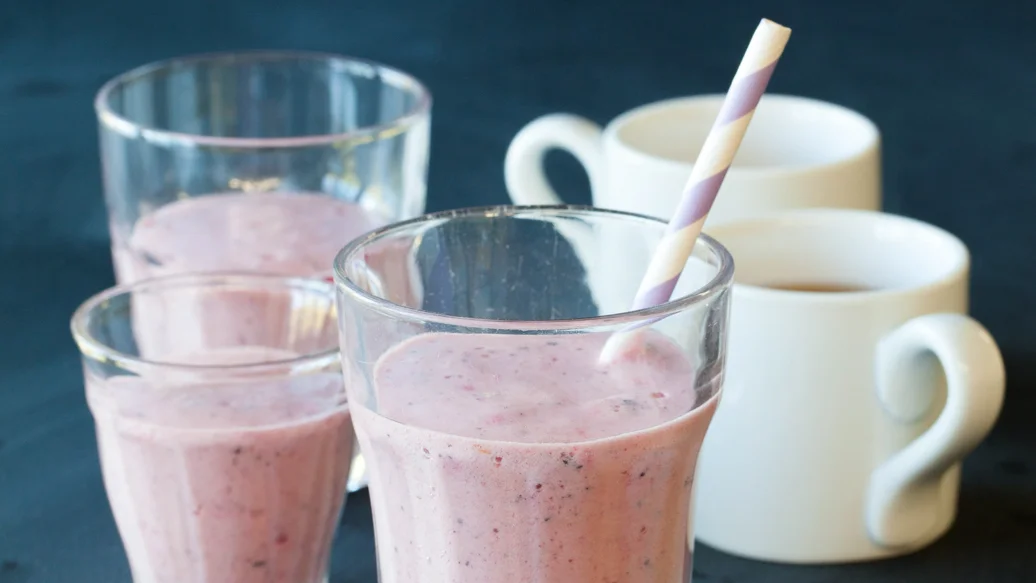 6 min
1 serving
$3.98/serving
This healthy recipe combines black tea with low-fat milk, fruit, and vanilla into one tasty breakfast shake.
Perfectly Balance Your Plate
Serve 1 slice whole-grain toast with 2 tsp nut butter.
Ingredients
1⁄2 cup low-fat milk, divided
1 tsp Rise & Shine Assam Black Tea
1⁄4 cup frozen berries, such as blueberries, strawberries, or raspberries
1⁄2 peeled, frozen or fresh banana
1 tsp vanilla extract
Preparation
Gently heat 1⁄4 cup of milk and add Rise and Shine Tea. Let infuse for 5 minutes, strain, and let cool to at least room temperature. (The cooler the better.)
Combine all ingredients, including the other 1⁄4 cup of milk, in a blender. Blend until smooth.
Nutritional Information
Per serving: Calories 240, Fat 3.5 g (Saturated 0.5 g, Trans 0 g), Cholesterol 5 mg, Sodium 125 mg, Carbohydrate 27 g (Fiber 5 g, Sugars 16 g), Protein 25 g.